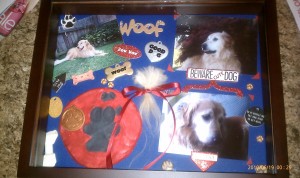 My house just is not the same without Henri.  I miss him more each day.  I decided in his honor to make a shadow box.  I think it looks good!  Henri would have approved!  A lot of the neighbors have been so kind and giving me cards.  I know everyone knew how much I loved him.
My husband and I have decided to adopt another Golden from the same rescue that we got Henri.  We are also getting a golden puppy.  While every dog is different and no other dog will ever be the same as Henri, we decided that we want to share our love with another dog…..and thinking even more, that we want two dogs so that they have each other as well.
It has really been hard not having Henri here but I do know that I was a lucky girl to have had him and to have had  4 months together after his diagnosis.  During the last 4 months, we were able to share some very special times together that I will always cherish. Henri will always be mommy's little boy!   
Our new puppy which will be named Ellie Grace will come home the first week of August.  We are still looking for a male golden to rescue and bring home to share a new life together.
Hugs to everyone for all of the kind words during Henri's battle with cancer.  It meant so much to me to have such wonderful people to help keep me grounded during such a difficult time.